"By wisdom a house is built, and through understanding, it is established; through knowledge, its rooms are filled with rare and beautiful treasures."
-Proverbs 24:3-4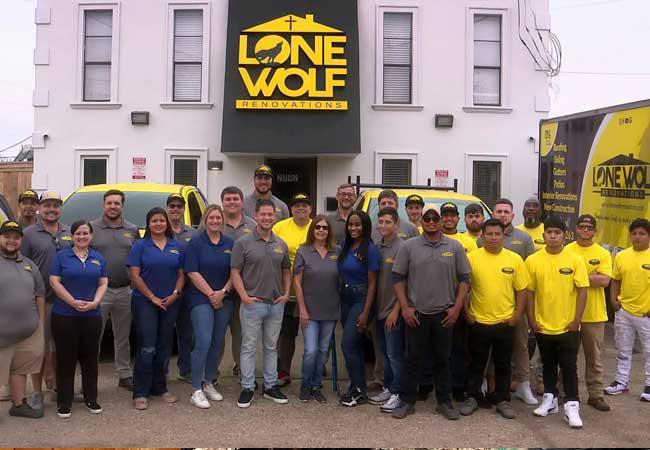 Welcome to Lone Wolf Renovations, your trusted partner, for all your roofing, siding, patio, concrete, fencing and interior renovation needs. We are a leading home improvement company committed to providing top notch services and ensuring customer satisfaction. Our team of professionals aims to enhance the beauty, functionality and value of your home.
Reasons to Choose Lone Wolf Renovations;
Roofing Expertise; Our experienced roofers possess knowledge and expertise in all aspects of roofing services. From installations and repairs to inspections and maintenance we guarantee that your roof will be in condition effectively safeguarding your home from the elements.
Siding Solutions; Elevate the curb appeal of your home, with our quality siding solutions. We offer a range of materials and styles tailored to meet your preferences and budget. Our expert installers meticulously transform the exterior of your house while ensuring durability, energy efficiency and aesthetic charm.
Stunning Patios and Outdoor Spaces; Create an oasis with our professional patio design and construction services. We specialize in crafting functional patios, decks and outdoor living areas. Whether you desire a tranquil retreat or an entertaining space we bring your vision to life through craftsmanship and attention to detail.
Interior Renovations;
Whether you're looking to revamp your kitchen and bathroom or embark on a home makeover we've got the skills and expertise to transform your spaces. Our dedicated team works closely with you to understand your style, requirements and budget ensuring that we deliver results that not only enhance the functionality but also the beauty of your home.
We take pride in using top notch materials for all our projects, at Lone Wolf Renovations. By partnering with trusted suppliers we guarantee that your renovation will stand the test of time. Our skilled craftsmen pay attention to every detail resulting in superior workmanship that exceeds all expectations.
We understand how valuable your time is. That's why we make it a priority to complete every project within the agreed upon timeframe. With our project management approach we stick to schedules while minimizing any disruptions to your life. This way you can start enjoying your renovated space without delay.
At Lone Wolf Renovations our owner is personally present on site for every job. This commitment ensures that we maintain the quality standards throughout every aspect of your construction project.
For all things siding, patios and interior renovations trust Lone Wolf Renovations as your choice. Our unwavering dedication to excellence keen attention to detail and utmost focus on customer satisfaction set us apart as a leading home improvement company.
Contact Lone Wolf Renovations today, for all of your renovation needs!Please feel free to get in touch with us at your convenience to discuss your project. We would be delighted to assist you in bringing about a transformation, in your home. You can reach us by phone at 504 459 9653 or, via email at Sales@lonewolfrenovations.com. Our office is located at 2882 Cleary Avenue, Metairie, LA 70002.